Who is E-Z GO? 
E-Z Go – a subsidiary of Textron company – has been known for its specialization in industrial vehicles and golf carts. While it seems to be popular for its standard models, E-Z Go also offers carts that reinvent the purpose and style of what is considered standard. Models are also available for food & beverage concierge on the green as well as street legal. The two standard models for E-Z Go are called the RXV and the TXT.
RXV or TXT?
Both the RXV and TXT were designed to be used as standard cart fleets for golf courses or country clubs; both have standard features. These features include two person capacity, epoxy coating, and tires designed for course-terrain riding. Both can travel between 10-15 MP, however, both also have a counterpart that is street legal as well.With golf cart communities becoming more popular, the street legal versions are becoming more popular as well. They both come with the standard features, along with headlights, taillights, a horn, and brake lights.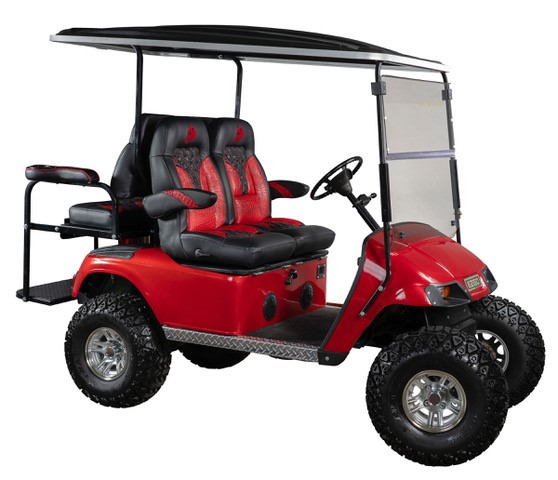 The RXV is a very customize-able option, with being available as either gas or electric, and with 2 or 4 seats. It was designed for higher durability, safety, reliability, and performance. It has increased reliability due to its combined AC technology and "intellibrake" system. With 15% greater efficiency than DC, It was also the first vehicle created for both golfing AND leisure. The RXV is also the only cart with "intellibrake" technology with combined AC power.
What is AC power technology? The next generation RXV utilizes the same pioneering AC technology introduced with the RXV's launch in 2008. This is proven to generate increased energy efficiency, longer run time between charges and more hill-climbing power. AC (or alternating current) delivers power more efficiently and faster than direct current (or DC) because of the way it is transmitted. This makes AC vehicles use less energy, but more powerful and efficient. AC motors don't use as many parts which is better for maintenance cost.
The E-Z Go "intellibrake" technology encompasses 2 unique and revolutionary technological advancements: A system motor brake that slows down the vehicle automatically while going up or down a steep hill, and an automatically applied parking brake.  All brakes use energy, but the "intellibrake" has full-time regenerative braking, which saves energy – it uses the energy from the brakes and moves it towards the battery!  Now that is a cool way to reuse energy!
Overall, the RXV delivers a superior on-course experience with the way that it is able to maintain its speed well, allowing for better pace of play.
Newest Features
The TXT has been around a bit longer than the RXV. However, the newest, redesigned model has some features that the RXV does not have. The bag well is larger; factory seats are taller and more comfortable (customers won't need these if they purchase any of these El Tigre seats). Expanded dash offers 30% more space, with wider and taller cup holders. The ball holder has been re-positioned, for easier access outside of the cart. There is also an optional USB port. The forward, neutral, rear control has been simplified for easier operation and access. The sun canopy has a new unique drip edge. The battery fill system simplifies maintenance, and the bumpers are steel enforced.   The redesigned TXT offers TruCourse Technology, which allows golf course owners to tailor speed, acceleration and regenerative braking characteristics to optimize the vehicle's performance for safe, efficient operation on their course, and also reduces energy costs and improves battery life and daily range. The new TXT's 48-volt DC technology offers the most efficient and effective DC power in the industry, maximizing battery life and using less energy than competing models.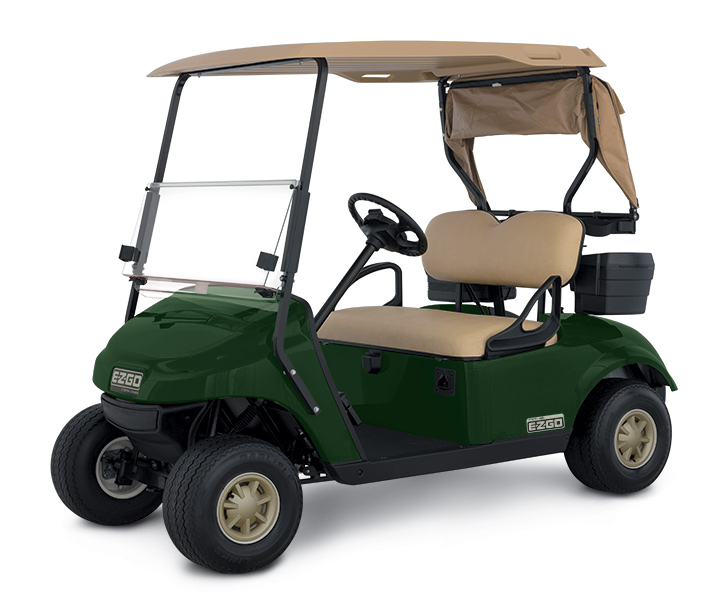 Overall, the RXV and TXT are both good options when you are looking for a stylish cart with innovative technology ready and available.
Many of our seats are available for purchase for both the RXV and TXT! Make your ride the most comfortable and stylish it can be! El Tigre has the best selection of colors and textures!