COMPLETE YOUR RIDE – GEM® CART SEATS
As stated in the previous post, the GEM® cart is an all-around versatile vehicle. Although the cost is not exactly economic, the safety features and sleek design offer a great alternative to other golf carts.
With El Tigre being a leading provider of aftermarket seating for golf carts, we also have developed beautiful aftermarket seat options for the GEM® cart.
These "oh so comfortable" seats offer many options that other manufacturers do not offer. Check out our "Colors and Textures" page with all the vinyl options! El Tigre also offers a new fabric called  Parà Tempotest®. Learn more about this option here.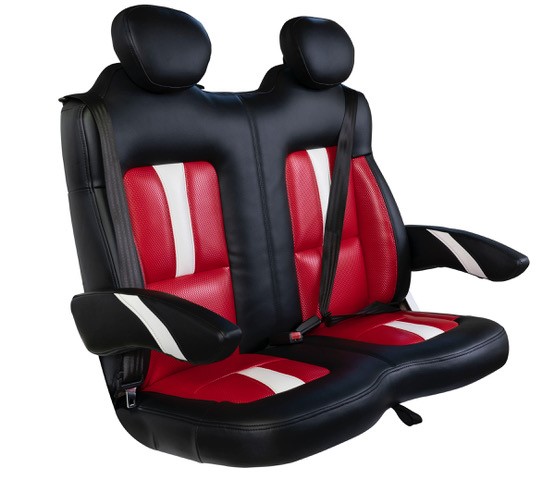 STYLES TO CHOOSE FROM
Customers can purchase a bucket style as well as a bench style with arm rests. The seats also come with new seat belts. The best thing about these seats is they are interchangeable – meaning customers can pick what they want in their GEM® cart based on what they like – whether it be 2 rows of bench style seats, 2 rows of buckets, or front buckets and a back bench style – this seat design is completely customize-able, providing the opportunity to make their GEM cart the most unique. No one else offers full aftermarket GEM® cart seats with the comfort that El Tigre seats are known for!
THE EL TIGRE DIFFERENCE
El Tigre Seats are different from other manufacturers in many ways. Not only do they offer sliding and reclining positioning options, and customize-able style, but also an undeniably comfortable design. One secret is in the foam packs. Most manufacturers use foam that is simplistic and cheap, whereas El Tigre uses the best quality; combining different densities based on the location of the foam on the seat. For example, the seat bolster has a different foam than the middle area of the seat where your legs are positioned. El Tigre wants their customers to be comfortable all day, not just for a few hours. Learn more about the El Tigre Difference !
El Tigre seats also are equipped to try and prevent bottoming out on rough terrain. The highly-innovative flex suspension creates a spring-like feel using high performance wood and strong elastic flex straps. This design is also used for the Yamaha Drive 2, and continues to be a project worked on that will allow it to be used on other carts in the future.
Next post, we will examine the Yamaha Drive 2 as another great option for a cart with all it has to offer!