Rear Seat Kits – A Big Accessory
Nowadays, People are starting to use their golf carts for more than just on the golf course. Since it is becoming more prominent as a component in daily living, more options are needed. Options can include
anything from more seating availability, to cargo-ready accessories. In this case, rear seating kit options can give both!
Many customers may feel the need to add to their carts to make them more unique, or if they want to double the seating capacity. Rear seat kit options are available for Club Car, Yamaha, or EZGO models, and in either flip, or stationary positions. They come in a variety of styles and colors (or you can get your own personalized kit from El Tigre!).
As stated above, two different options exist for rear kits. Flip Flop seats can either be flipped in the upwards position for added passengers, or flipped out for extra cargo to haul coolers, tools, equipment, and anything else that might be too heavy to carry. Stationary seats are exactly as they sound: just extra seating for your cart! Flip flop rear seat kits are the more sought out of the two options. Seat kits come in versions for Club Car, Yamaha, and EzGo.
Why add a Rear Seat Kit?
Customers may also be looking for a way to make their golf carts stand out from everyone else's, in which case, adding a rear seat kit can do so. Other cool accessory options include safety grab bars and arm cup holders. El Tigre also has personalized rear arm rests with cup holders available so customers can match their newly upgraded seats!
If a customer is thinking about getting a rear seat kit, an extended roof is suggested. This way the extra passengers are covered and protected from the sunlight, or cold rain. A Safety grab bar is also a popular item to add because it gives passengers something to hold onto when in rougher terrain, thus allowing it to be safer than without.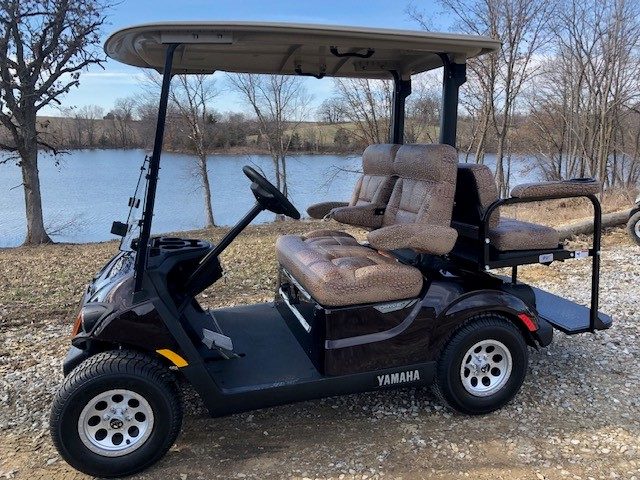 Check out this awesome cart made with a rear seat kit and matching cup holders! If interested, give El Tigre a call 574-206-9000 or send an email to [email protected]!