YAMAHA DOES IT AGAIN
In 2017, Yamaha brought out it's newest of the fleet – the Drive2 – available in both gas and electric vehicles.
As with any of their products, Yamaha continues to be a leading provider in the golf cart industry with their continuous ability to produce merchandise with top technological enhancements that golfers around the world are looking for, while striving for major cost-savings. The Drive 2 is no exception.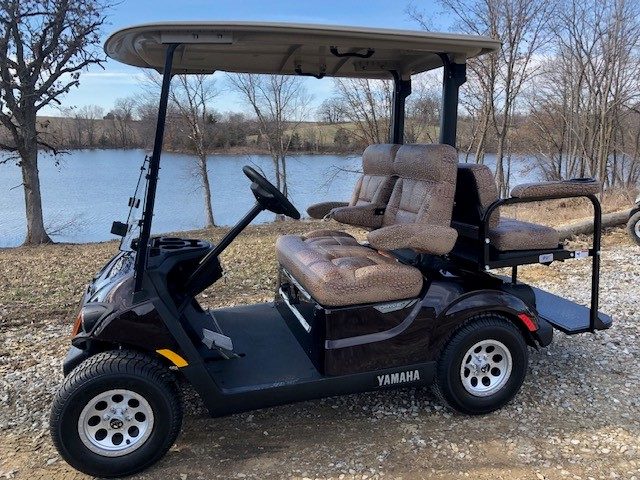 A PRODUCT ALREADY LOVED
The idea behind the DRIVE2 was not to make a new product, but to improve on an already loved one. For example, the Yamaha Drive already has a fully-independent automotive front suspension, but the Drive2 added the first ever performance-tuned rear suspension.
The panels have a new design; the rear access lid was enlarged, allowing for easy access to the engine which saves time, and therefore, saves money on (routine) maintenance. The dash is larger as well, with multiple, different sized cup holders, and non-slip pads for your belongings in the front storage compartments so they stay more secure during travel.
TECHNOLOGICAL ENHANCEMENTS
Yamaha uses something called QuieTech in its gas models, which is as it sounds: quieting technology, that performs almost as well as an electric vehicle, giving the Drive2 up to 45 MPG. The QuieTech gives the Drive2 better performance than a fully electric vehicle, but also allows it to be quieter than a gas vehicle. According to yamahagolfcar.com, the Drive2 emits 76% fewer pollutants than competition vehicles.  Again, this allows us to help our environment out! Check out this video on the new cart, explaining all the awesome features it truly has.
El Tigre Golf Seats offers quite a few extraordinary seating options for the Yamaha Drive2, if customers are looking to improve comfort and style in their new cart. Feel free to look at the various options on our Seats and Prices page. Contact El Tigre with any questions regarding the Yamaha Drive2 options!